Exhilarating flavors intergrated with the region's finest ingredients: Restaurant La Cusina invites you for lunch or dinner to enjoy the Grand Canal view and savor the tastes of Venice.
Without Land Menu
La Promenade | Lunch Menu
A la carte menu
Tasting Menu | Well-being
Without Land Menu
For this year's Architecture Biennale, Executive Chef Alberto Fol, and one of the promoting artists of "Without Land", has created a menu which speaks of origins and paths, and is a message in a bottle which carries with it a promise for the future. Discover the menu for a holistic Biennale experience from May 27 until November 27 at La Cusina Restaurant.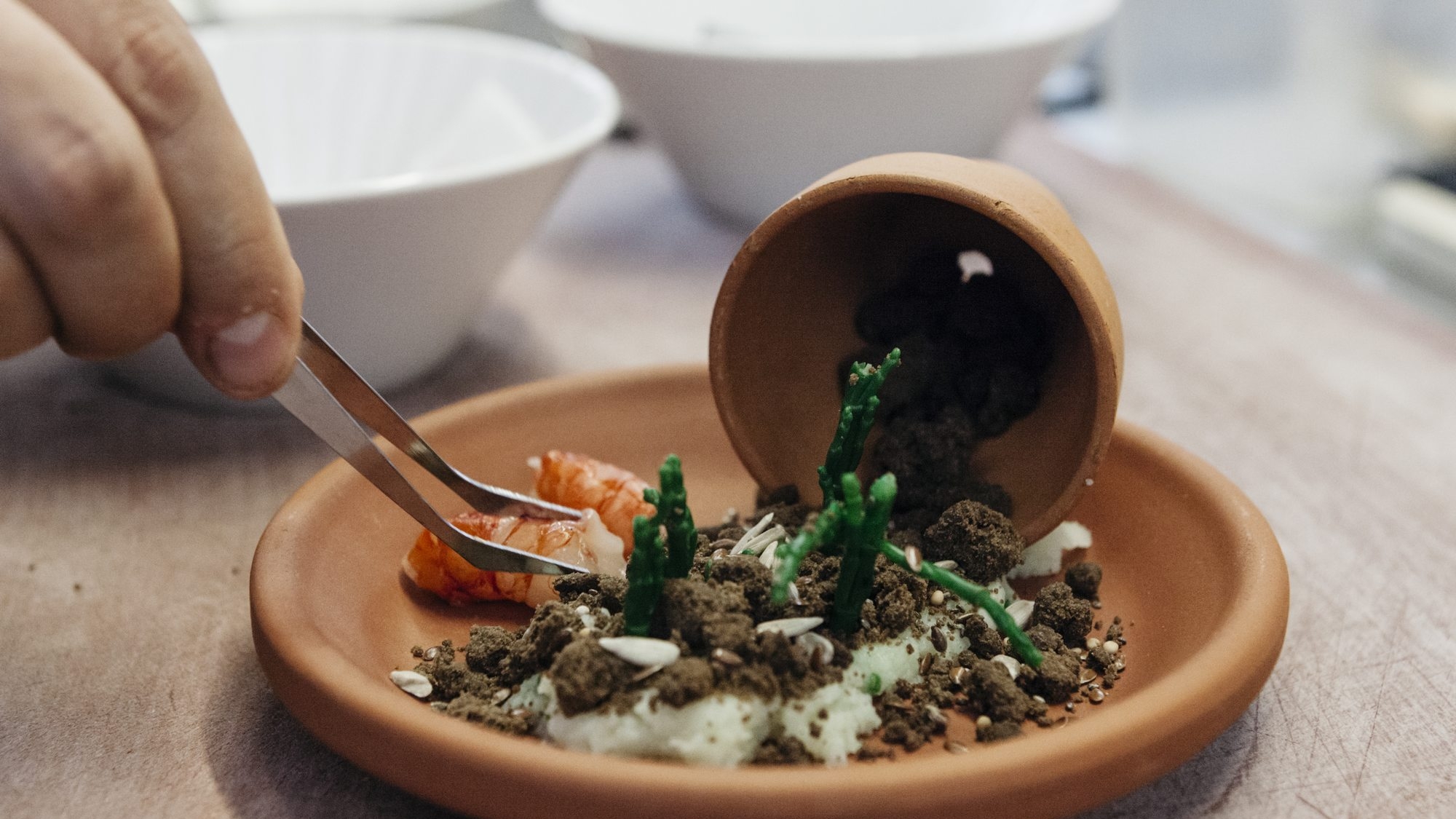 Borderless
"Randomly scattered sand and soil evoking a world with no boundaries."
Wild seeds soil, millet sand and raw prawns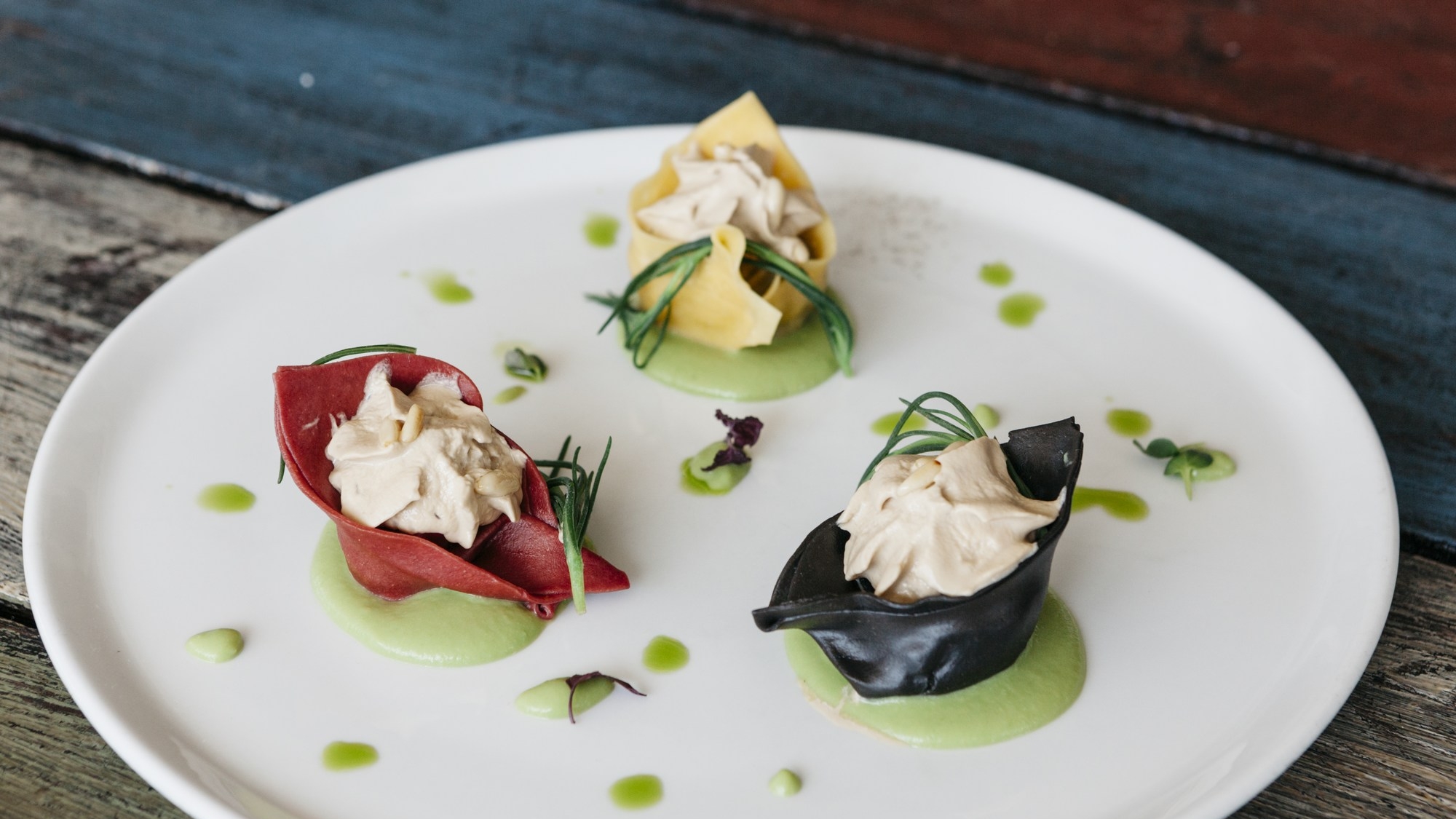 Displacements
"Wild ingredients often found along displacement routes recalling the migration odyssey."
Chard ravioli
with peas cream, seared saltwort and strobile seed mousse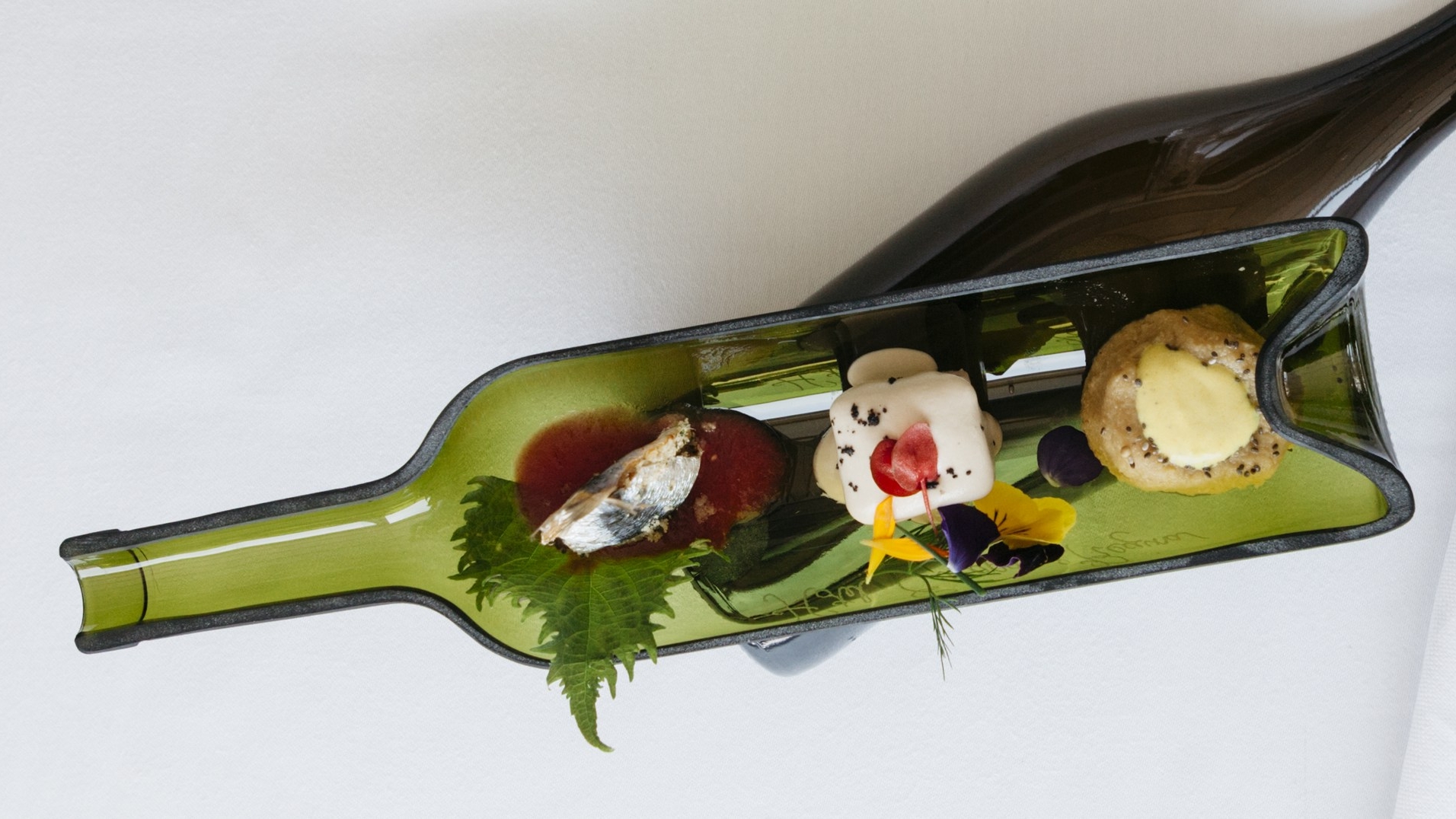 Land and Sea
"A message in a bottle that conveys a desperate call for attention."
Chickpea ball
with seeds and yogurt sauce, turmeric and celery
Veal with tuna sauce
and mesclun salad with balsamic apple vinegar
Stuffed baked sardines
with confit tomato purée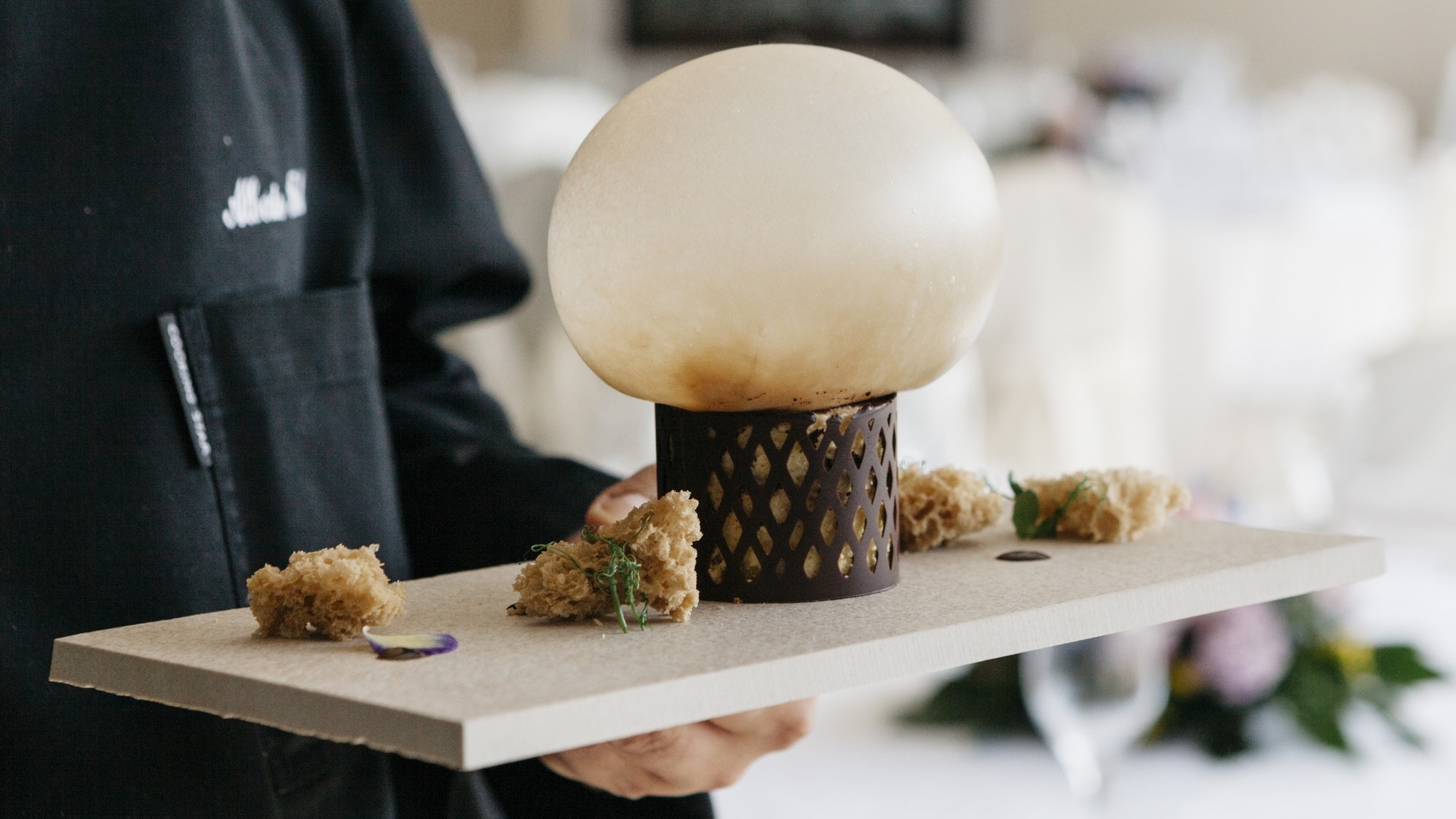 Aerostatic Tiramisù
"The most famous Venetian dessert as symbol of an effortless and rising equality."
Modern tiramisù
with aerostatic balloon
Senza Terra Menu | 90 Euro per person
Wine excluded
Our sommelier will be pleased to advise you on the ideal wine-pairing to be chosen from a prestigious selection of wines.
La Promenade | Lunch Menu
Our daily lunch menu with delicious dishes carefully prepared by our Executive Chef Alberto Fol.
APPETIZERS
Prawn salad - 26
with spinach and vegan turmeric mayo
Three ways to savour the fish from the Venetian lagoon - 28
Herbs marinated salmon - 24
with yogurt sauce
Apulian smoked burratina cheese - 24
with tomatoes
Caesar salad - 26
with chicken cooked at low temperature
Angus beef carpaccio - 29
with rocket salad and Parmesan cheese
Caprese salad - 24
with buffalo mozzarella D.O.P.
PASTA & SOUP
Tagliatelle - 26
with seafood from the lagoon
Filled seabass ravioli - 28
served with a light seafood sauce, pumpkin flowers and basil
Seafood lasagne alla buranella - 30
Spaghetti - 18
with fresh tomatoes and basil
Minestrone of legumes and vegetable - 18
MAIN COURSE OF FISH & MEAT
Mix of grilled fish - 33
with vegetables
Fillet of seabass - 28
with Mediterranean sauce and chives scented potatoes
Fried calamari - 26
with tartar sauce and vegetables tempura
Fillet of Angus beef - 40
with crunchy potatoes and asparagus
Biological grilled chicken - 28
served with a gratin of endive and mustard
Sliced veal - 38
with rocket salad and tomatoes
DESSERTS & HOME MADE GELATI
Fresh fruit tartelette - 15
filled with vanilla cream
Soft 3 chocolate cream - 16
with green tea crumble
Fresh fruit salad - 12
with sorbet of your choice
Strawberries - 12
with creamed low fat yogurt
Home made Ice cream - 12
vanilla, chocolate, pistachio, hazelnut, stracciatella, strawberry, lemon, passion fruit
Cover charge of €4 per person, service and VAT included
A la carte menu
Chef Fol presents a seasonal menu that thrives off local flavors and ingredients, available at dinner.
STARTERS
Finest selection of raw fish experience - 45
Four ways to taste the Venetian lagoon fish - 39
Curled Musky octopus - 28
in tomato sauce in traditional Venetian style
Venetian stock cod - 26
with soft polenta
Veal tartare - 35
on a tuna sauce with zucchini flower filled with sheep ricotta cheese
Buffalo mozzarella - 25
with pappa al pomodoro and aubergine caponatina
Warm courgette and Saint Erasmo mint soup - 28
with soft chickpeas and almond
Gazpacho soup - 24
SuperfoodsRX
FIRST COURSES
Calamarata pasta carbonara style - 33
with smoked swordfish
Hand filled ravioli pasta - 32
with prawns and herbs, burrata cheese and cream of taralli
Aged carnaroli risotto - 32
creamed with broth of go' and garusoli, seafood and parsley
Pappardelle - 34
with veal ragout, spugnole mushroom and sweet garlic
Selected spaghetti - 28
with fresh tomatoes and artisan smoked ricotta from Malga
Minestrone of seasonal vegetables with fresh tomato and basil - 22
Venetian style pasta with beans soup - 27
THE CLASSICS FOR 2 PEOPLE
Mixed grilled fish served with grilled vegetables - 125
Served for a minimum of 2 people
Cartizze wine scented oven turbot with potatoes, olives and cherry tomatoes - 118
Served for a minimum of 2 people
Chateau Briand with béarnese sauce and seasonal vegetables - 120
Served for a minimum of 2 people
MAIN COURSES
Monkfish fillet - 38
with aubergine and sun dried tomato
Gratinated cod - 35
with fondant potato from Montello, Salicornia salad, chia seed and carrot mash
'Scartosso' of fried local camalari and prawns - 38
with tartare sauce and vegetable tempura
Herb crusted lamb cutlet - 36
with zucchini and Amarone della Valpolicella sauce
Milk and honey fed chicken - 33
served with green pepper, caramelized Tropea onion and crisp potato
'Venetian style' liver - 36
with home made soft polenta
DESSERTS
Minestrone of fresh fruit and vegetable - 20
with aromatic agave nectar intigolo dip and rice ice cream
Trio of chocolate cream - 18
with jasmine crumble and white tea ice cream
Home made tiramisù - 18
with Savoiardi biscuits
Soft lemon cream - 18
served with a stew of strawberries in basil and extra vergin olive oil
Raw almonds cake - 18
with crunchy puffed rice, light mou and fresh raspberries
FRESH FRUIT & ICE CREAM
Home made ice cream selection - 16
Vanilla, Chocolate, Pistachio, Hazelnut, Stracciatella (made with fresh milk without aromas or artificial preservatives added)
Selection of sorbets with rich fruit purée - 16
Strawberry, lemon, passion fruit (free from artificial preservatives)
Fresh seasonal fruit salad - 14
COVER CHARGE 12€, SERVICE AND VAT INCLUDED
Our Maitre will be happy to suggest alternative dishes in case of dietary restrictions
Tasting Menu | Well-being
Executive Chef Alberto Fol presents a new Well-Being tasting proposal that embraces a free cuisine concept for a healthier you. Rich in taste and nutrients, this culinary journey is fat, salt and sugar free, inspired by the Venice lagoon and composed of ingredients sourced locally from Veneto.
Be inspired
Marine Sun
Warm courgette and Saint Erasmo's mint soup with soft chickpeas and almond
S. Erasmo Garden
Venus risotto seared by the flavour of our land with fresh tomato emulsion and misticanza of flowers marinated on apple vinegar
Earth Energy
Roasted bean from Lamon, peas cream, stewed onion with extra vergin olive oil form "colline di Marostica"
Naturally soft
Minestrone of fresh fruit with aromatic agave nectar intigolo dip and rice ice cream
Well-being tasting menu - 115
Cover charge €12, Service and VAT included
Lunch

12.30 PM - 2.30 PM

Dinner

7.30 PM - 10.30 PM